ULTIMATE AFRICA SAFARIS
Phone toll free 1 800 461 0682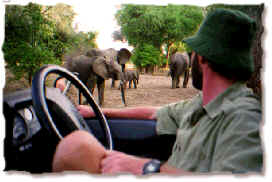 Types of safaris and activities
TYPES OF SAFARIS
Generally speaking there are two types of safaris - group safaris (typically 6-8 people) with set departure dates each year and tailor-made safaris that depart upon request for one or more people.
Whether you choose to join a group or explore Africa on a tailor-made safari tour there are basically 3 different comfort levels to be enjoyed:
Platinum (Signature) Collection: Our platinum collection includes only a handful of exclusive safari accommodations - nothing short of Africa's finest accommodations, top guides and wildlife and wilderness areas! Tailor-made tours including private aircraft and specialized guides are the norm.

Premier: Our "Premier series safaris" include stays at small lodges and tented camps which exemplify the best that Africa has to offer. The camps and lodges are typically located in the best wildlife and wilderness areas (often on private concessions) and you will enjoy the company of Africa's top guides.

Voyager: Our "Voyager series safaris" are great value safaris, typically staying at lesser known lodges that offer unique, quality, accommodations in the company of great guides. Some nights may be spent camping in dome tents or in the open.
ACTIVITIES
A typical day on safari starts with a pre-dawn wake up with hot tea and biscuits. Activities are normally decided upon over dinner the previous evening. As the sun rises you will head out into the bush with your guide on a game drive, walk, or canoe / boat safari. Mid morning (between 9 AM - 11 AM), as wildlife activity begins to slow, you will return to camp for brunch.
The middle of the day is spent resting as wildlife activity is very limited. You may enjoy reading, take a nap, or take a cooler of drinks and view wildlife from a nearby hide (available at many lodges and camps). A late lunch is normally served around 1:00 PM.
Your afternoon activity starts with tea near 3:00 PM and extends past sunset with cold drinks served in the bush. At dark you will return to camp for a refreshing shower before drinks at the bar or around the fire. Dinner is normally served at 8:00 PM followed by dessert and after dinner drinks around the fire. Most guests retire around 10:00 PM.
You may enjoy the following safari activities (this list does not include all activities on offer):
Bushwalks - Walk or hike through wild and remote areas of Africa while learning the secrets of the bush from your expert guide. Zimbabwe and Zambia stand out as the only countries where you may enjoy guided walks within National Parks. Most people enjoy a 2 to 3 hour walk from the lodge in the morning with a game drive in the afternoon. Whole day walking trips between camps and portered walking safaris are also possible. Zimbabwean guides are recognized as the most highly trained of all African guides, having to complete several years of training and testing before attaining their license. Most Zimbabwean and Zambian guides are armed for client safety and carry a portable radio. Walks are usually slow paced over even terrain. To walk with the wildlife in Africa is an experience not to be missed. (Botswana, Kenya, Mozambique, Namibia, South Africa, Tanzania, Zambia, Zimbabwe)

Bungee jumping - Yes, bungee jumping! If you are so inclined Africa offers the world's two highest commercial bungee jumps; 111 meters off the Victoria Falls bridge in Zimbabwe and 216 meters off the Bloukrans Bridge in South Africa. (South Africa, Zimbabwe)

Camel Back Riding - Many guests are thrilled to spend several days camel riding. High atop your camel you can explore Africa's beautiful landscapes and wildlife in an environmentally friendly manner. With local guides to lead you, riding camels is a leisurely way to enjoy the bush. (Kenya, Tanzania)

Camping - Imagine sleeping in a dome tent as elephant browse through your camp, or sleeping on an island in the middle of a river under a mosquito net while hippo snort nearby. Camping in the wilds of Africa is an exhilarating experience. (Botswana, Kenya, Mozambique, Namibia, South Africa, Tanzania, Zambia, Zimbabwe)

Canoeing - Canoeing in Africa has to be one of the most rewarding activities anyone can experience in their lives. In the company of an experienced guide guests may enjoy canoe trips lasting from a few hours to ten days. An ideal addition to any safari is to spend three days floating casually along a remote African river. Hippos and crocodile abound along with other wildlife including elephant, buffalo, and numerous species of antelope and birdlife. Nights are spent camping on islands or at mobile tented camps set up along the river bank prior to your arrival. Some lodges include canoeing as an activity to be enjoyed at your leisure. Canoeing is generally not strenuous and both young and old find canoeing to be a memorable experience. (Botswana, South Africa, Zambia, Zimbabwe)

Cultural interaction - From bustling city markets to remote fishing villages, the options for interaction with the wonderful people of Africa are endless. Many guests choose to visit small villages near where they are staying to get a glimpse of African culture. These short visits are often viewed by guests as the most rewarding and eye opening part of a safari in Africa. Opportunities exist for the more adventurous to spend one or more days/nights living in villages and sharing in the chores that fill African day. From carrying water and firewood to sitting for hours around a smoky fire many people feel that their lives are forever changed by this experience. (Botswana, Kenya, Mozambique, Namibia, South Africa, Tanzania, Zambia, Zimbabwe)

Elephant back safaris - Spend a 1/2 day (or several days) in the life of an elephant. From the back of an elephant guests will amble down small forest paths and across open savannas. Guests will learn all about these magnificent animals as they feed, rest and play. If you are lucky you may even have a chance to swim with these gentle giants. Riding an elephant through the African bush is an enchanting experience. (Botswana, Zimbabwe)

Fishing - Fishing in Africa is tremendous. Remote lakes and slow flowing rivers teem with bream, perch, and catfish. The world's most powerful freshwater fighter, the tigerfish is only one of the numerous African fish which will test your skill and equipment. Private bass dams abound, and clear mountain streams are often filled with trout. Deep sea angling off the continent's eastern and southern coasts can be incredible! A fishing holiday in Africa is a fisherman's dream come true. (Botswana, Kenya, Mozambique, Namibia, South Africa, Tanzania, Zambia, Zimbabwe)

Game drives - Game drives, both day and night, are the most popular activity with clients on safari. Game drives last anywhere from 2 hours to whole day excursions with lunch in the bush. Typically night game drives are not allowed within National Parks although there are a few exceptions. Normally night game drives occur on private land adjoining, but outside, National Parks or on private wildlife conservancies. In East Africa the tradition has been to use close sided vehicles as guests are often transported long distances by road. Many east African safari companies use minivans. Unlike many safari companies we DO NOT cut costs by using minivans or buses on our safaris. In east Africa we use close sided 4x4 vehicles ensuring that we can get to our destination no matter what the weather may do! The vehicles seat 5 with a guide and have roof hatches for game viewing. A small number of east African safari lodges / camps offer open sided 4x4 vehicles for game viewing. In southern Africa (Botswana, Namibia, South Africa, Zambia, Zimbabwe) the vast majority of lodges and camps use open sided 4x4 vehicles. These vehicles are built to handle the rough terrain found in many National Parks allowing guests to reach remote areas. Open vehicles enhance wildlife viewing as clients are able to experience the sounds and smells. Photography is superb without having to stand. Most open vehicles have a canopy to shade the harsh African sun. Ultimate Africa highly recommends open 4x4 vehicles for all game viewing. (Botswana, Kenya, Mozambique, Namibia, South Africa, Tanzania, Zambia, Zimbabwe)
Golf - For the golf enthusiast there is nothing more unique than a golfing holiday in Africa. From 9 hole courses set amongst towering granite outcrops to championship courses with crocodiles in the water hazards and warthogs and impala on the greens guests will be amazed at the variety of golfing opportunities. Most courses charge nominal fees, some as low as US $1, which means an African golfing safari is an unbeatable value. (Kenya, South Africa, Zimbabwe)

Helicopter, microlight and fixed wing flights - While at Victoria Falls in Zimbabwe you may enjoy helicopter or fixed wing flights over the world's largest waterfall. The more adventurous may enjoy a microlight flight over the Falls - shooting through the rising mist as the ground breaks away deep into the Batoka Gorge below. Scenic fixed wing flights are also available in other parts of Africa such as the Namibian coast and over Kenya's Masai Mara. (Botswana, Kenya, Namibia, South Africa, Tanzania, Zambia, Zimbabwe)

Hiking - Hiking may be enjoyed throughout Africa, in some case within National Parks! (Kenya, Namibia, South Africa, Tanzania, Zambia, Zimbabwe)

Horseback riding - If you enjoy horseback riding why not spend a few days of your safari riding. Short trips from your comfortable lodge or several day excursions add a new dimension to an African safari. As the wild animals are more comfortable with the site and smell of horses in the bush wildlife can be closely approached. Relive the pioneering days of untamed Africa or ride slowly though beautiful mountain forests as colorful birds flutter from tree to tree. Note that most horseback safaris do not take place in areas with abundant wildife. (Botswana, Kenya, South Africa, Zimbabwe)

Hot Air Ballooning - As the African dawns unfolds before you the balloon slowly inflates. Soon you are floating silently above the awakening bush. You drift lazily spotting wildlife and enjoying the amazing scenery of Africa. Across rivers and over small villages filled with smiling waving people you land in an open field where you are met by the retrieve vehicles. Champagne corks pop as you enjoy a beautiful breakfast in the bush. (Botswana, Kenya, Namibia, Tanzania, South Africa)

Penguin Watching - Jackass penguins may be seen in colonies along the coast of South Africa - the most famous location being Boulder's Beach in Cape Town South Africa. (South Africa)

Quad Bike Excursions - A handful of safari camps / lodges offer quad bike excursions. Whether exploring the world's oldest desert - the Namib, or crossing the Kalahari, quad bikes are an exciting addition to the safari experience.(South Africa, Namibia, Botswana)

Rafting - White water rafting in Africa cannot be beaten! Zimbabwe provides some of the world's most incredible white water rafting. From the intense 1 day white water run below the Victoria Falls (15 class 4 and 5 rapids) to extended 7 day runs, rafting enthusiasts will have a lifetime of stories to recant to their friends back home. (South Africa, Zambia, Zimbabwe)

Riverboarding - Half day and full day riverboarding (bodyboarding) excursions may be enjoyed below Victoria Falls in the Batoka Gorge. Your guide will instruct you in the finer art of "surfing" the Zambezi river. (Zambia, Zimbabwe)

Sailing safaris - Zimbabwe's Lake Kariba is the setting for exciting 3 to 7 day sailing safaris during the months March through October. Visit remote Batonga fishing villages and enjoy wildlife viewing as you relax aboard your 30 foot catamaran. You will be accompanied by a skipper who will teach you sail this great inland sea! (Zambia, Zimbabwe)

Scuba Diving / Snorkeling - Scuba diving and snorkeling along Africa's miles of coast is INCREDIBLE! From the spice island of Zanzibar to South Africa's Kwa-Zulu Natal a few days diving / snorkeling is a wonderful way to complete a wildlife safari. The best diving may be had at Rocktail Bay in South Africa. In fact Rocktail offers one of the finest diving experiences in the world. If you were to travel up and down the coast by boat you would see there is no one else around! Simply beautiful untouched white sand beaches lapped by the warm Indian Ocean! Roughly 100 kilometers of virgin beach. Diving started here in April 2001 and the vice president of Mares Dive Equipment, a man named Gianni, rates it as one of the top 3 dive destinations her has ever visited (he has done over 5,000 dives around the world! In addition to a wide variety of tropical and sub tropical fish species guests may encounter a variety of sharks, whales, dolphins (common), and leatherback and loggerhead turtles. (Kenya, Tanzania, Mozambique, South Africa)

Shark Cage Diving - The world's greatest predator, surviving unchanged for over twenty million years, patrols the oceans off the coast of South Africa. Adventurers may wish to spend a day or two shark cage diving in a spectacular area roughly four hours from Cape Town. Guests will have the opportunity to view Great Whites from the boat and from an underwater cage. Expert guides and no diving experience is necessary. (South Africa)

Surfing - The coasts of south western and southern Africa offer some of the world's most remote and exciting surf breaks. From Jeffrey's Bay in South Africa to Namibia's wild and desolate Skeleton Coast South African surf guides can share with you their favorite secret spots along with their wonderful hospitality. (Mozambique, Namibia, South Africa)

Tracking - One of the most exhilarating experiences in life must be tracking African wildlife on foot. Your professional guide will teach you the fine art of tracking. You will learn how to differentiate between animal species by their spoor, discern their recent actions and behaviors from inspecting droppings or tree and leaf fragments, and estimate their pace through the bush as you quietly follow in their footsteps. (Botswana, Kenya, Namibia, South Africa, Tanzania, Zambia, Zimbabwe)

Train / Rail safaris - Journey back in time aboard a steam train as you make your way through big game country. Fully restored steam train trips depart from many cities. These train journeys last from several hours to several nights. For those of you arriving in Johannesburg, South Africa a train ride into the heart of Africa is a great way to start your safari! (South Africa, Zimbabwe)

Whale Watching - Whale watching along the coasts' of Namibia and South Africa can be spectacular. Southern right whales can be seen breeding several months of the year. What a tremendous sight to see these enormous mammals. (Namibia, South Africa)

Links to other pages:

ULTIMATE AFRICA SAFARIS
13032 - 204th Place SE, Issaquah, Washington, 98027-8572 USA
Tel (425) 793 8877 Fax (425) 793 8878
Phone toll free within the United States on 1 800 461 0682
www.ultimateafrica.com / info@ultimateafrica.com

Send mail to info@ultimateafrica.com
Copyright © 1996 - 2004 ULTIMATE AFRICA SAFARIS
Washington State Registered Seller of Travel #601730459