ULTIMATE AFRICA SAFARIS
Phone toll free 1 800 461 0682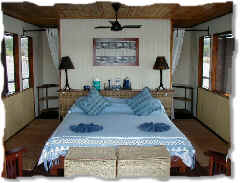 Zimbabwe Safari Accommodations
A sampling of Zimbabwe's lodges, tented camps and hotels that we consider "special" or unique and recommend to our clients.
Chikwenya, Mana Pools - Situated on the eastern boundary of Mana Pools National Park in northern Zimbabwe, Chikwenya offers an unparalleled remote African wildlife and wilderness experience. Chikwenya offers discerning clients the opportunity to explore untouched Africa on professionally guided wildlife viewing walks, on wildlife viewing drives in open 4x4 vehicles and on boating or canoe excursions. Fishing for Africa's infamous tiger fish also proves exciting. Guests are accommodated in 8 large walk in tented rooms raised on wooden walkways with en suite shower and toilet.
Elephant Camp, Victoria Falls - Elephant Camp is home to a small family of African elephant. You will have the opportunity to feed, ride, and maybe even swim with these 4 ton giants! From the small lodge, which offers 4 thatched en suite cottages, you will set out - exploring the wild veld with the elephants. An afternoon picnic with them is unforgettable. "Riding an elephant is like following a giant butterfly as you can only see the head and outstretched ears. The beauty of the experience is walking through the bush as a part of the wildlife itself."
Giraffe Springs, Hwange - Situated within the heart of Zimbabwe's largest National Park on a private 20,000 hectare private concession, guests are accommodated in 10 luxury walk in tents each with en suite facilities, a private balcony and views of the waterhole situated in front of the camp. This unique tented camp has a distinct Arab feel with flowing textured fabrics dyed in rich spicy colors. The main dining area and lounge includes a wildlife viewing platform and plunge pool. As there is no fence, game wanders freely through the camp. Enjoy day and night wildlife viewing drives in open 4x4 vehicles and walks with your professional guides.
Inn on Rupurara, Nyanga - The Inn on Rupurara is situated amongst huge granite outcrops on the western fringe of the Nyanga Mountains. The Inn has been artistically built to blend into the surrounding landscape, which is spectacular as it overlooks a deep valley facing Rupurara – a vast granite outcrop from which the Inn derives its name. Rupurara is the Chishona name and means "bald mans head". There are 17 wood and stone lodges, six of which look out onto a lake and the rest onto the valley facing Rupurara. Great attention has been paid to detail and the lodges are beautifully decorated. Each room has its own balcony and has en suite facilities including both a bath and separate shower. The main lodge area has an upstairs and downstairs lounge each with welcoming fireplace, a wine bar and an elegant dining room. There is also a swimming pool and sauna. Activities include trout fishing and scenic drives and walks on the estate. Water abounds, icy cold streams and cool springs provide an abundance of pools, which attract wildlife and birds. The variety of indigenous highveld vegetation makes this area a botanist's paradise especially after the first rains in September when the msasa trees are a mass of orange and pink.
Inn on Great Zimbabwe, Masvingo area - Set within acres of beautiful gardens overlooking Lake Mutirikwi this small bed and breakfast is the perfect place to relax at the end of a wildlife safari. The Great Zimbabwe Ruins are a few minutes away by road. Great value!
Leopard Rock, Vumba - Nestled in the magnificent eastern highlands of Zimbabwe Leopard Rock offers unparalleled views of the Vumba's most spectacular mountain scenery. The hotel, with its unique look of a French chateau, strikes a fine balance between old world charm and modern hospitality. There are 45 double rooms and 12 luxurious suites. All the bedrooms are stylishly furnished and have private en-suite bathrooms, color television, mini bar and 24 hour room service. With spectacular views into distant Mozambique Leopard Rock's 18 hole golf course winds its way through undulating hills, lush sub-tropical foliage, sparkling dams and lakes. Other facilities include a billiard room, two floodlit tennis courts, a squash court, a bowling green, swimming pool, croquet lawn and a gymnasium with sauna. Leopard Rock is an ideal base for excursions on foot, by horse back or by car. There is also a casino.
Linkwasha and Little Linkwasha Tented Camp, Hwange - Completely rebuilt in 1999 Linkwasha Tented Camp offers one of the highest quality wildlife and wilderness safari experiences in Zimbabwe. Situated within the private Linkwasha concession deep within Hwange National Park guests are accommodated in one 7 room tented camp and one 3 room tented camp. Each comfortable walk in tent has en suite facilities including shower and flush toilet along with an outside shower. All rooms are raised off the ground on wooden platforms connected by raised walkways. Activities in this wildlife paradise include day and night game drives in open 4x4 vehicles, and professionally guided walks. There is also a plunge pool. Great wildlife viewing area!
Little Makalolo Tented Camp, Hwange - Opened in April of 1997 this classic luxury tented safari camp is set deep within Zimbabwe's largest wildlife reserve - Hwange National Park - on a private concession. The area is frequented by a wide variety of game, including hundreds of elephant, especially in the dry season. Little Makalolo has no fence, so the game wanders freely through the camp. Guests are accommodated in 5 tastefully appointed walk in tents with en suite facilities. There is also a plunge pool. Activities include professionally guide wildlife viewing walks and day and night wildlife viewing drives in open 4x4 vehicles.
Makalolo Plains Tented Camp, Hwange - The sister camp to Little Makalolo, Makalolo Plains is also situated within the Hwange National Park on the private Linkwasha concession. This luxury tented camp caters to 18 guests who are accommodated in 9 tastefully appointed walk in tents with en suite facilities. There is also a plunge pool with magnificent views across savanna plains frequented by numerous wildlife species. Makalolo Plains has no fence, so the game wanders freely through the camp. Activities include professionally guide wildlife viewing walks and day and night wildlife viewing drives in open 4x4 vehicles. Adventurous guests may overnight in the hide affectionately known as the "bunker" - Professional guide Garth Thompson observed 1,255 animals from 17 species during 31 hours at the bunker!
Matusadona Water Wilderness - Situated in a secluded hippo filled bay on Matusadona National Park's shoreline this unique lodge is actually made up of two separate floating lodges under the same name. One lodge caters to 10 guests in 5 floating chalets and the other caters to 8 guests in 4 floating chalets in another part of the bay. Each chalet has en suite facilities and a verandah. Each lodge has a "mother ship" which houses a bar, lounge and dining room. Guests commute between their chalet and the mother ship by canoe or on the camp pontoon boat. Wildlife viewing is fantastic with large herds of antelope, elephant, buffalo, and a host of predators - not to mention black rhino. Activities include professionally guided wildlife viewing walks, wildlife viewing drives in open 4x4 vehicles (limited), canoeing along the shoreline, fishing and boating.
Pamushana, Malilangwe Conservancy - Perched on top of an escarpment, with spectacular panoramic views, Pamushana is the most exquisite lodge in Africa. Situated within the 105,000 acre Malilangwe Reserve, one of the finest private wildlife reserves in Africa, guests are accommodated in six villas. Each villa is an extravagant space, built with intricate hand-hewn stone work, reminiscent of Great Zimbabwe. Exotic works of art and richly textured materials from all over Africa blend in with hand-carved tables, big comfortable chairs, shelves of books and bowls of fruit creating a tranquil ambience. Walls of sliding glass lead out onto a teak leisure deck where you can lie in your own swimming pool enjoying the breathtaking views. Each air-conditioned villa has a large lounge, king-size bedroom, dressing room, full bathroom, guest toilet, fireplace in the lounge and bedroom, mini-bar, large wooden deck with patio furniture and telescope, open-air shower and own private swimming pool with underwater lights. The lodge's main area comprises several lounges, a library, dining room, swimming pool (which can be heated in winter), game viewing deck and open fireplace, fully equipped gymnasium, sauna and gift boutique. Guests will discover an outstanding diversity of wildlife including both black and white rhino, elephant, lion, leopard, buffalo, painted hunting dog, cheetah, and more. With over 400 recorded species of birds and one of the highest concentrations of raptors in the world, the Malilangwe Reserve is also a haven for bird enthusiasts. Activities include professionally guided walks, day and night wildlife viewing drives, visits to San (bushman) painting sites, fishing, and day excursions to Gonarezhou National Park or a local village. The lodge is run by the non profit Malilangwe Conservation Trust and tourism revenue is channeled back into the Reserve and to the surrounding communities. As this lodge is on a private conservancy / farmland we are not recommending clients visit at this time.
Ruckomechi Camp, Mana Pools - Ruckomechi Camp is situated on the western side of Mana Pools National Park (a world heritage sight) overlooking the Zambezi River and shaded by a grove of massive acacia trees. Guests are accommodated in 10 luxury thatched chalets with en suite facilities. Ruckomechi has no fence, so wildlife wanders freely through the camp. The camp is well known for its outstanding variety of game, and its unique bath and loo with a view. Ruckomechi won "Best Safari Camp" in Zimbabwe for four consecutive years. Activities including professionally guided wildlife viewing walks, wildlife viewing drives in open 4x4 vehicles, canoe trips on the Zambezi River, boat trips and fishing.
Stanley and Livingstone, Victoria Falls - The Stanley and Livingstone, near Victoria Falls, has justifiably established itself as one the region's premier small luxury hotels. The Stanley and Livingstone charms guests who delight in the warm yet luxurious atmosphere complemented by attentive, personal service and the finest cuisine. Guests are accommodated in 20 exquisitely furnished air-conditioned suites with gracious living rooms and separate bedrooms. Each suite has a private raised patio overlooking lush gardens and nearby waterholes. The main lodge area includes a bar, dining room, lounge, a swimming pool and gym. But The Stanley and Livingstone is not just about being pampered. The hotel is situated on a 6,000-acre private estate known as the Nakavango, a region famed for its teak forests and abundant birdlife. In the winter season, it is common to encounter large herds of elephant. Activities include wildlife viewing drives, and professionally guided walks. The Elephant Company, also situated on the Nakavango Estate, organizes elephant back safaris.
Victoria Falls Hotel, Victoria Falls - The posh Edwardian Victoria Falls Hotel, built in 1904, is noted as one of the top 50 hotels in the world. It is the closest hotel to the Falls. All the bedrooms have been refurbished to provide a perfect balance of modern amenities (such as air conditioning) without losing the grand Edwardian architecture and pure graciousness. Set in acres of lush lawns and exotic flora, the hotel is only a few minutes walk from the center of Victoria Falls Town and a ten minute walk along the hotel's private path from the actual Falls. Please note that most rooms do not have views of the Falls.
Victoria Falls Safari Lodge, Victoria Falls - Situated on a plateau, which forms a natural boundary to the 80,000 hectare Zambezi National Park, the westward facing Victoria Falls Safari Lodge enjoys uninterrupted views and spectacular sunsets. Thatch, rustic finishes, vibrant fabrics, clay tiles and an extensive use of local hardwoods are key elements in the creation of a distinctly African ambience. Each of the sixty-six bedrooms and six luxury suites have stunning views over the park. The rooms are air conditioned with en-suite facilities including a bath and separate shower. During the day light meals and drinks are served around a beautiful rock swimming pool. At sundown enjoy a cocktail whilst watching game congregate at the floodlit waterhole. For dinner, move upstairs to the candlelit Makuwa-Kuwa Restaurant or experience the traditional food and atmosphere of the outdoor Boma Restaurant. The Safari Lodge is considered one of the "10 Best Kept Secret Places to Stay in the World!"
White Horse Inn, Vumba - The name Bvumba is a derivation of a local word meaning "mountains of the mist" and this mist ensures luxuriant vegetation and fascinating cloud effects throughout the year. The White Horse Inn provides old-fashioned comfort, good food and personal service. The Inn has 12 spacious en-suite rooms and suites, all named and decorated after flowers. There is a stylish dining room where dinner is served by candlelight and a cozy pub with welcoming fireplace. Two lounges are available to guests, one with television. The gardens are a delight and there is a superb terrace, overlooking the swimming pool and croquet lawn.
Wild Geese Lodge, Harare - Wild Geese Lodge enjoys panoramic views across savanna grasslands and indigenous trees to the distant Iron Mask Mountains. The attractive private homestay, set in a quiet suburb of Harare, has thatched roofs, a swimming pool, and walking trails.
York Lodge, Harare - Situated in a quiet wooded suburb 5 minutes from downtown Harare this gorgeous bed and breakfast is a haven of peace and tranquility. Formally the residence of the Newlands District Commissioner this colonial home accommodates guests in 7 luxury suites opening onto wide verandahs and tropical gardens. Each suite has en suite facilities including both a bath and shower. The lodge also has a swimming pool.
Return to Ultimate Africa's Main Safari Lodge and Camp Page
Links to other pages: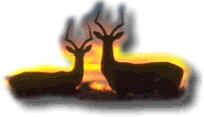 ULTIMATE AFRICA SAFARIS
13032 - 204th Place SE, Issaquah, Washington, 98027-8572 USA
Tel (425) 793 8877 Fax (425) 793 8878
Phone toll free within the United States on 1 800 461 0682
www.ultimateafrica.com / info@ultimateafrica.com
Send mail to info@ultimateafrica.com
Copyright © 1996 - 2004 ULTIMATE AFRICA SAFARIS
Washington State Registered Seller of Travel #601730459